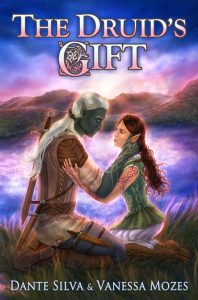 After facing betrayal, Nuné undertakes a pilgrimage into the mountains at her druid sisters' behest. Plans of washing away her sorrows at journey's end are dashed when she falls prey to the night elf warrior, D'leer. With her magic in danger, Nuné must make D'leer see reason lest others befall her fate.
Tyrinden D'leer always knew he would advance to highest rank one day, but not like this. Caught between adhering to his superiors and resisting the tenacious druid, he finds himself in an impossible position, but when Nuné saves his life, he can no longer ignore his feelings.
However Tyrinden D'leer isn't the only man to come from the mountains, and the danger that lingers threatens to take him from the woman he can't let go of.
You can preorder The Druid's Gift (The Nameless Gods, #1) on Amazon!