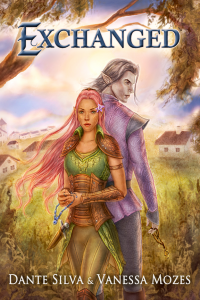 Aubriel has always admired the esteemed paladin Elston, but when it comes time for him to choose between her and the treasure she unwittingly leads him to, he chooses the treasure. Elston's betrayal puts Aubriel in the path of a powerful fey lord—Callannon Thray—whose invasion of her dreams assures Aubriel that he has plans for her. But she refuses to be used again. Unable to return home with the possibility of facing Elston there, Aubriel follows Lord Callannon Thray to a realm of great magic and even greater danger.
When Callannon arrives to defend his treasure, he's surprised to find a beautiful elven woman already defending it for him. Aubriel is everything he's wanted but failed to find in a fey woman—kind, honest, trustworthy—but there's one problem: she's mortal. When she agrees to go with him to the fey realm, Callannon has no choice but to hide her mortality to protect her from those who would use her against him. The captain of the king's guard is one such person, and she won't rest until she sees Callannon stripped of everything he has.
Among enemies and in the midst of political turmoil, Callannon and Aubriel must hide the truth of her mortality or risk Callannon's ruin and Aubriel's freedom.
Available through your favorite eBook sites: Books2Read
eBook: Smashwords ~ Amazon ~ Barnes & Noble ~ Kobo ~ iBooks
Paperback: CreateSpace ~ Amazon ~ Barnes & Noble